Best Casting or Screen Mirroring Apps
1. ApowerMirror - Mirror&Control "Powerful Screen Mirroring App"
ApowerMirror is a powerful screen mirroring application to stream Android & iOS screen to Windows computer or Mac. Moreover, it allows you to remotely control Android devices on the computer using mouse and keyboard. Using ApowerMirror, you would be able to receive notifications from your phone directly on the desktop/laptop. This saves you the trouble of having to switch between your laptop and phone each time you need to check for a notification. The app gives you the option to connect to your PC via two methods — Wi-Fi and USB. Therefore, you can opt for either based on your preference and situation at the time.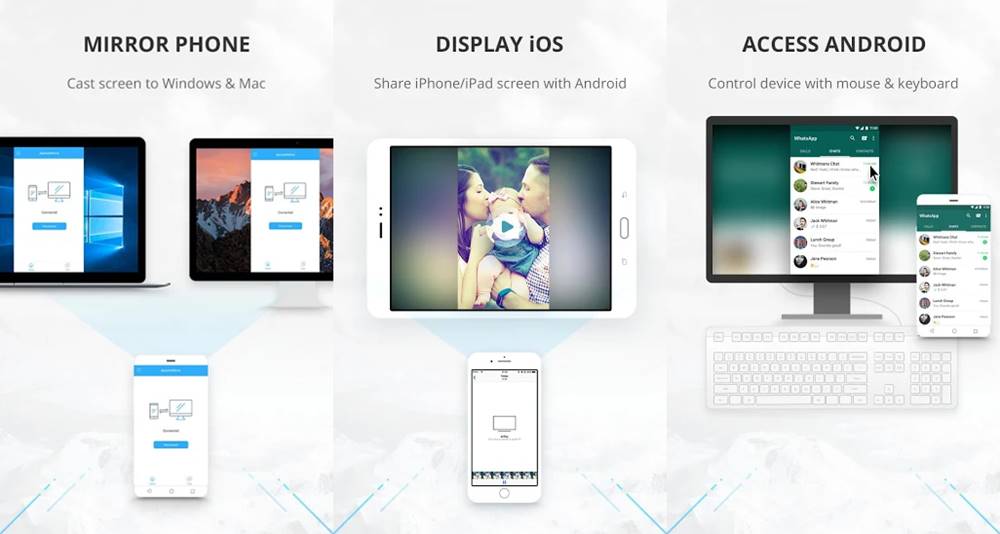 2. AnyDesk Remote Control - Access Your Devices On All Platforms !
AnyDesk can be considered as one of the best screen mirroring/casting apps currently available for Android. The app is fast, light, and reliable for everyday use. Users would have to use the passkey within the application to connect to their smartphone via any other supported device. AnyDesk offers constant 60fps streaming hence you wouldn't notice any lag or stutters. Of course, it would require a decent internet connection. This sets it apart from the competition. The app has good security measures, so you wouldn't have to worry about attackers trying to steal your data by breaching the app.
3. Cast to TV - Chromecast, Roku, Stream Phone to TV
Cast to TV enables you to cast online videos and all local videos, music and images to TV, Chromecast, Roku, Amazon Fire Stick or Fire TV, Xbox, Apple TV or other DLNA Devices. Cast to TV and enjoy movies on TV now!
4. LocalCast for Chromecast - No. 1 Casting Solution on Android
LocalCast is the number one casting solution on Android with over 10,000,000 users. Send videos, music or pictures. From your phone or tablet, other apps, NAS (DLNA/UPnP or Samba), Google Drive, Google+, Dropbox or a webpage. To a Chromecast, SmartTVs, Roku, Nexus Player, Apple TV, Amazon Fire TV or Stick, Sony Bravia, Samsung, LG, Panasonic and other SmartTVs, Sonos, Xbox 360, Xbox One or other DLNA Devices.
5. AirMirror: Remote Support & Remote Control Devices
AirMirror has a good list of features up its sleeve, most of which would be appreciated by those looking out for more functionality. The screen mirroring/casting app covers all the basics and also enables full-fledged Voice Calling. You wouldn't have to sign up or create an account to use the begin using the app. There's an option for communicating via text as well. AirMirror would also allow users to access the phone's camera and remotely capture images.
6. Web Video Cast | Browser to TV/Chromecast/Roku/+
Web Video Caster® allows you to watch on your TV videos from your favorite websites including movies, TV shows, live streams of news, sports, and IPTV. It also lets you cast local videos stored on your phone. Photos and audio files are also supported. Subtitles are detected on the web page, you can also use your own subtitles, or you can use the integrated search of OpenSubtitles.org.
7. AirScreen - AirPlay & Google Cast & Miracast
This nifty screen mirroring/casting app packs in a lot of useful and functional features. It supports multiple wireless transmission protocols such as AirPlay/Google Cast/Miracast/DLNA. However, you also have the option to use a local network connection to share your screen. The app allows users to record their screen which can be fairly useful to capture things on the screen while sharing it with others. Privacy concerned individuals would also be glad to know that the app supports encrypted transmission. This would help keep your data safe.
8. Cast to Chromecast Fire TV Android Smart TV ROKU
Cast to TV or Chromecast or any such receiver protocol like Amazon Fire Stick, ROKU, Android TV, KODI, Fire TV, Smart TV or any other DLNA Devices. Cast (send) web videos, music or photos from your phone and SD Card to TV. Quick Cast helps you to cast videos, music, images as simple as one click to cast to TV where streaming becomes admiringly effortless. Choose from the unlimited collections of the latest movies, series, animes and many more exciting features and enjoy uninterrupted cast .
9. Microsoft Remote Desktop - Be Productive No Matter Where You Are !
The Remote Desktop app from the software giant allows you to easily and seamlessly control your PC from anywhere. It might not pack in a few features which are available in other screen mirroring/casting apps. However, it does cover all the basics. It does support high-quality video output which is comparable to just about any other high-end screen-sharing app. Setting up the app on the PC does not require any additional skills or efforts. It gets bonus points for having the ability to stream audio and video as well.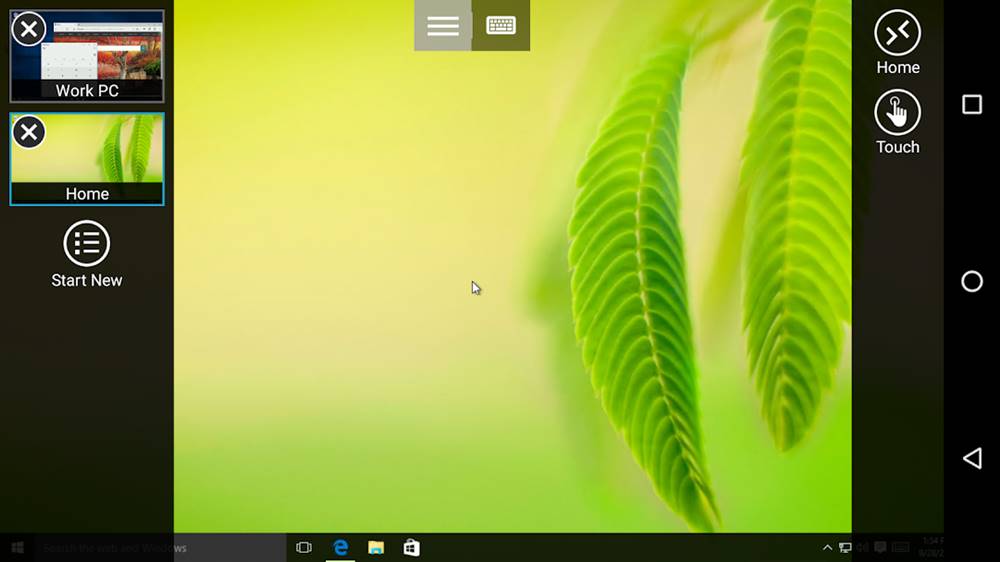 10. TeamViewer for Remote Control - Remotely Control Devices !
TeamViewer is one of the most recognized and used screen sharing tool. The app supports file transfer between your phone and PC. This would allow you to quickly transfer files from your Android device to the PC and vice versa. You can also control your phone or desktop via the application based on the situation. Another great feature is the Chat function which can be used to quickly communicate with the user on the other end without having to leave the app.