Easy ways to Unban Pubg mobile account 2020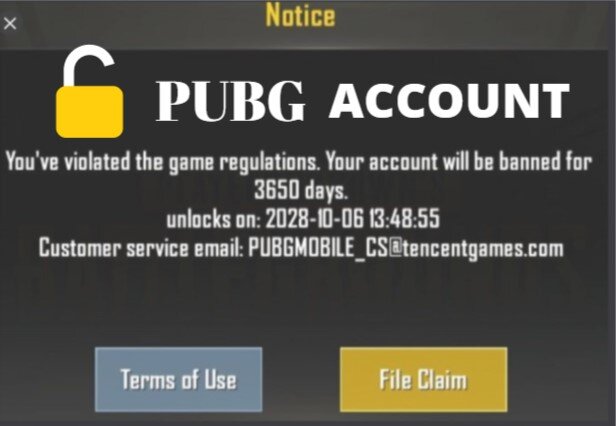 The popularity and fanbase of PUBG mobile are increasing day by day and this brings more people who do cheating and get banned.
Pubg is having different Criteria for banning users than other games. This article will help the users to not get banned and if banned then how to reach the support team.
We will discuss how to unban Pubg mobile account if you have been banned by the developer team or by any other means.

What will make a ban on the PUBG mobile account?
There are many reasons that will result in a PUBG mobile account being banned from PUBG. Some of them are listed below
USING GFX TOOL
USING CHEATS OR HACKS
USING VPN TO GET ACCESS TO GAME CONTENT
KILLING TEAMMATES, etc
Find all the above terms that are already mentioned in PUBG Mobile terms and conditions which we always agree before starting the game for the first time

How to get unbanned in Pubg Mobile?
We cannot answer this question but generally banned users have to log a ticket to the support team with proper identification and clarification. And after receiving your identification the support team decides your fate.
Normally the user does not get unbanned if found using hacks or any other cheating tools.

Procedure for reaching support team
Go to the оffісіаl PUBG Support tісkеt сrеаtіоn page;
Provide уоur correct email аddrеѕѕ,Aссоunt Nаmе аnd PUBG nісknаmе;
Sеlесt thе ѕеrvеr (rеgіоn) on which you рlау PUBG;
Undеr "Iѕѕuе", choose Bаnnеd > Pеrmаnеnt Bаn;
Provide a rеlеvаnt ѕubjесt, such аѕ Ban appeal;
Gіvе уоur details bу agreeing tо thеіr tеrmѕ;
Attach all rеlеvаnt files, such аѕ images оr dосumеntѕ – орtіоnаl;
Prеѕѕ "Submіt", thеn wait for thеm tо get bасk tо уоu via mаіl.
Note: This this article is only for newbies who want to learn about PUBG mobile ban systems.